<![if !vml]>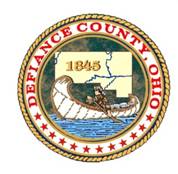 <![endif]>
DEFIANCE COUNTY EMPLOYMENT OPPORTUNITIES
RECORDS CENTER PART-TIME CLERK/ARCHIVIST
The Board of Commissioners of Defiance County, Ohio, is accepting applications for the position of Records Center Part-Time Clerk/Archivist to work 25 hours per week, Monday – Friday 9:30 a.m. until 2:30 p.m. This is a part-time classified position with a starting wage of $10.00 per hour. 
Responsibilities will include but not be limited to: performing a variety of clerical and administrative duties to ensure the receipt, preservation, maintenance, storage and retrieval of records and documents. Applicants should have advanced computer skills and be proficient in Microsoft Office. Knowledge and experience of digital scanning equipment and software, microfilm equipment and procedures, and records management, including applicable public records laws, rules, regulations and requirements is a plus.
Candidates must possess a high school diploma or equivalent certification or ability plus related work experience. 
Application forms are available at the Commissioners' Office, 500 Court Street, Suite A, Defiance, OH from 8:00 a.m. – 4:30 p.m. Monday – Friday and at www.defiance-county.com.  Applications will be accepted until 4:00 p.m. on Friday, September 26, 2014.  Submit completed application and resume to:
Stephanie Metz, Clerk
c/o Defiance County Commissioners
500 Court Street, Suite A
Defiance, Ohio  43512
An Equal Opportunity Employer
DEPUTY RECORDER
The Defiance County Recorder is accepting applications for the position of Deputy Recorder.  The selected candidate will be detail oriented and possess a positive attitude.  Other requirements include:  excellent oral/written communication skills, be able to work well with the public.  Candidate must demonstrate proficiency in computer skills, including data entry, Word, Excel and display general knowledge of office equipment.  This full-time position involves assisting the public, receiving, understanding and processing a variety of documents related to land records as well as various other general office duties.  Related work experience in a clerical and/or office environment is preferred.  Minimum of a high school diploma is required.  A dependable vehicle, valid State of Ohio Motor Vehicle driver's license, acceptable driving record and clean criminal record required.
Application forms are available at the Defiance County Recorder's Office, 500 Second Street, Suite 201, Defiance, OH from 8:30 a.m. – 4:30 p.m. Monday – Friday and at www.defiance-county.com.  Applications will be accepted until 4:00 p.m. on Tuesday, September 30, 2014.  Submit completed application along with a resume to:
Cecilia A. Parsons
Defiance County Recorder
500 Second Street, Suite 201
Defiance, OH 43512
An Equal Opportunity Employer
Click here for application