2009 Troy-Bilt® Chipper Vac Yard Machine Give-Away
As Defiance County Environmental Services works to transform Defiance through clean-up, green-up and fix-up projects, it now has some help in its community improvement efforts from TROY-BILT®, a leading consumer products company and manufacturer of rugged, hard-working tillers, mowers, tractors, chipper shredders and more.
Defiance County Environmental Services is one of over 100 KAB member organizations from around the nation that received TROY-BILT® garden products. These programs earned this distinction through their participation in the Great American Cleanup, the nation's largest community improvement program, led nationally by Keep America Beautiful®, Inc.
Defiance County Environmental Services offered entries to all citizens that participated at any of our fifteen recycling locations throughout Defiance County during the month of May. Each recycler also received a Trash Spoils Everything Litter Bag, filled with recycling information, brochures and coupons from Miracle Grow and Arm and Hammer. 296 recyclers entered into the drawing to try to win the Troy Bilt® Back Pack 2-Cycle Blower. The lucky winner of the TROY-BILT® Back Pack 2-Cycle Blower is Rita Layne of Defiance, Ohio.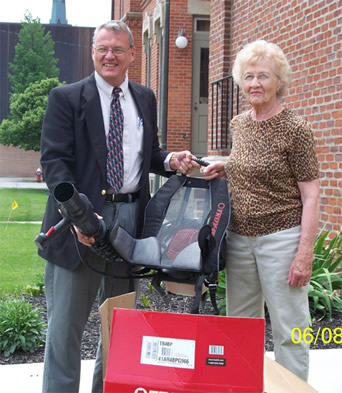 Timothy Houck, Director Environmental Services, presents Rita Layne with the Troy Bilt® Back Pack Blower.