Defiance County Landfill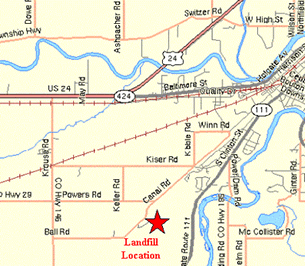 The Landfill is a publicly owned facility that operates as a true business. Customers are not required to bring waste to this landfill. The marketplace dictates the customer volume. The Landfill has expanded under a Best Available Technology (BAT) permit that was issued by the Ohio Environmental Protection Agency (OEPA) in 2006.
The cost to operate the facility is just over $3,000,000/year. Because we are a public facility it is a proprietary fund account and per the Ohio Revised Code (ORC) it is to be a break-even operation. The money generated by the facility must be spent on the facility, and to operate that facility. That includes management's assessment of future costs and needs.
The current operating permit has the landfill constructing new waste cells approximately every five years, cost of which has been averaging just over $2.2 million a cell.
The landfill is required to have a myriad of environmental protection elements. Monthly monitoring of water both storm, groundwater, air permit, monitoring methane that is generated by the biodegradation of the waste is required and reporting is provided to OEPA.
The facility takes in 300,000 cubic yards of waste each year on average. This is approximately 100,000 tons. It will be able to accommodate the waste disposal needs of its customers of northwest Ohio, specifically Defiance County residents (it's owners) for the next 75 years.
The staffs at the landfill are expert equipment operators charged with placing as many cubic yards of waste material into as small a space as possible through compaction operations utilizing specialized heavy equipment. Our operators are Ty Daniel, 17 yrs., Tom Yeager, 4 yrs., Paul Young, 3 yrs., Jim Powell, 3 yrs. and 2 part-time operators, DeWayne Massengale, 2.5 yrs., and Ron Dingus, 17 yrs. All of our customers are greeted cheerfully by our scale clerks, Barb Call, 17 yrs., Deb Centers, 11 yrs, with Lynn Bishop, 2.5 yrs., from the Environmental and Administrative Services Office as backup.
Aerial photos courtesy of Bob Arend.