D.A.R.E.
Drug Abuse Resistance Education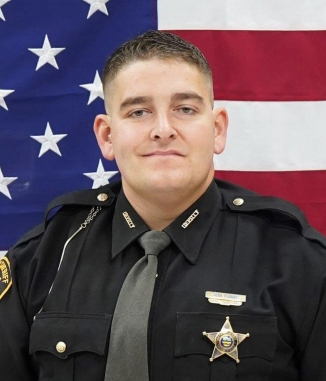 D.A.R.E. to say NO
Learning to say "NO" and not feeling compelled to go along with the crowd is the essence of D.A.R.E., an anti-drug program started in Ohio in 1987 and in Defiance County in 1990. The program is co-sponsored by the Ohio Attorney Generals, the Ohio Association of Chiefs of Police, and the Ohio Department of Education, in cooperation with local law enforcement agencies and school districts across the state.
D.A.R.E. - Drug Abuse Resistance Education is a preventative program originally developed in Los Angeles. Uniformed law enforcement officers teach the curriculum in schools, aiming to equip young people with the skills to resist peer pressure to experiment with harmful drugs. The concept is straightforward and simple D.A.R.E. to say "NO!"
Approximately 650 Ohio law enforcement officers who have been trained to teach the D.A.R.E. program work in nearly every county in Ohio. In Defiance County approximately 850 5th grade students will be graduating from D.A.R.E. and other younger individuals will take part in some shorter version classes. Since 1987, millions of Ohio school children have gone through the D.A.R.E. program.
A Serious Problem
D.A.R.E. was initiated because there continues to be an alarming increase in drug use among young people. Statistics show that the average age kids begin experimenting with illegal drugs is 13. While use of illicit drugs are falling nationally, the trend of drug abuse among young people continues to grow.
According to the federal government, in 1998, 36 percent of those from age 12 to 17 had tried an illicit drug at least once in their lifetime. Statistics show that youngsters who use marijuana before they turn 17 are 85 times more likely to use cocaine than those who did not. One in seven American students have used inhalants or sniffed glue to get high. While the percentage of 12-to-17-years-olds who have tried heroin has decreased-statistics also show that as many eighth-graders as 12th - graders have tried heroin in their lifetime. In 1999, 44.1 percent of eight-graders nationwide had used cigarettes-and more than 52 percent of eight-graders had used alcohol in the past year.
Resistance Education
Many teens think smoking, drinking and using exotic drugs are passports to adulthood. Rather than emphasizing traditional scare tactics that highlight the harmful effects of drugs, D.A.R.E. tries to teach students what being grown-up really means: not giving in to peer pressure, making your own decisions, and learning to cope with life's challenges in positive ways.
A Heavy Dose of Instruction
One of the unique features of D.A.R.E. is the use of police officers and sheriff's deputies as instructors. Our main audience in Defiance County is fifth-grade students. He visits each class once a week and stays on campus all day, interacting with students during lunch and recess.
Officers selected for this "classroom beat" have been carefully screened and are selected for their abilities in human relations and communications. Specialists in education and psychology train them to present D.A.R.E.'s 12-lesson program in an engaging and effective manner.
The D.A.R.E. curriculum focuses on four major areas:
Providing accurate information about alcohol and drugs
Teaching students decision-making skills
Showing students how to resist peer pressure
Helping students develop alternatives to drug use
Tips for Parents
Educate yourself about drugs, so you can talk informatively with your children and answer their questions.
Establish family rules that make the use of drugs non-negotiable.
Since peer pressure is a major factor in teen drug use, know your children's friends.
Talk with other parents. Try to establish uniform rules that make access to drugs harder for your children and their friends, such as a curfew, the amount of spending money they receive, and their use of a car.
If problems arise, seek advice and counsel immediately from someone both of you and your child respect.
Donations for the Program
Donations are always accepted for the DARE program. The DARE program is funded by a grant from the Attorney General's Office and by donation received by individuals and businesses. By donating you will be helping out a very worthy cause. Donations can be made out to the Defiance County DARE program at the following address:
Defiance County DARE Program
ATTN: Defiance County Sheriff's Office
113 Biede Ave Defiance, OH 43512