2012 City Parks Clean Up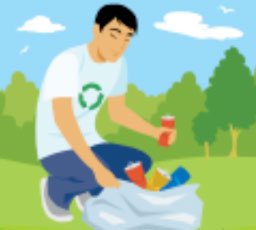 Spring has sprung in Ohio. The unusual warm weather has made March an ideal month to begin spring projects, including cleaning up the parks.
The 17th annual City Park Clean Up was held on March 17th St. Patrick's Day. The GREEN theme represented GREEN STARTS HERE, St. Patty's Day AND GREEN grass a growing! The nice weather brought out over 300 volunteers!
Jody Doyle with City Parks Rob Cereghin coordinates this event every year. Sponsors of the event include Defiance County Environmental Services, Keep America Beautiful (KAB) - Great American Clean Up, Defiance City Parks, ServiceMaster and Moose Lodge.
Volunteers included all ages and sizes, several Boy Scout and Girl Scout troops, college and high school athletes. Volunteers head to a local park in their community and get busy; raking, litter pick up, minor repairs, mulching, etc. A lunch is offered at Diehl Park after the event in appreciation for all of the hard work.
Park locations include: Bronson, Kingsbury, Diehl, Latty's Grove, Pontiac, Triangle Park, Moats Park, Defiance Fort Grounds and Defiance Reservoir. See pictures below: